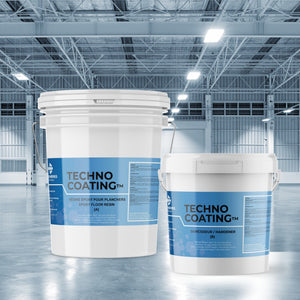 POLYMERES TECHNO COAT (15L Kit) consists of 10L Resin and 5L Hardener which provides up to 417 sq ft coverage.
 Chemical resistant

 Negligible shrinkage

 Fast curing time

 Easy to apply

 Available in black, white and grey

 Highly thixotropic
POLYMERES TECHNO COAT is a two component 100% reactive epoxy surface coat. Its very high viscosity and thixotropic level combined to its fast curing time make it an ideal compound to apply with a brush or a roller, for industrial use in the manufacturing of molds, dies and reinforced fibreglass units. The POLYMERES TECHNO COAT is frequently used for applications on model which has agressive angles on which regular surface coats will not remain stable and flow.