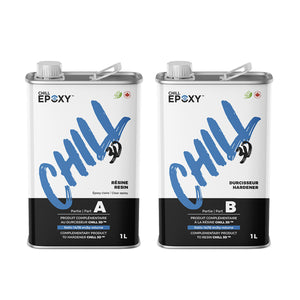 • High-quality raw materials
• Medium viscosity
• Easy mixing ration of 2A/1B by volume
• Crystal clear transparency
• Excellent UV resistance
• Meet the RoHS standard
• Glossy Finish
• No withdrawal
• Excellent impact resistance
 
CHILL EPOXY - CHILL 3D is a 100% reactive epoxy system with medium viscosity and high ultraviolet resistance. The CHILL 3D allows giving depth and brilliance to your artistic canvas or other substrates such as concrete, wood, metals among others. The CHILL 3D is the ideal product for casting up to 0.500 inches thick. Its characteristic of thixotropy makes it possible to stabilize the pigments and to avoid separation in the casting. Its pot life also allows fast handling time, depending on the density and design of the piece. This system also meets the European RoHS standard.