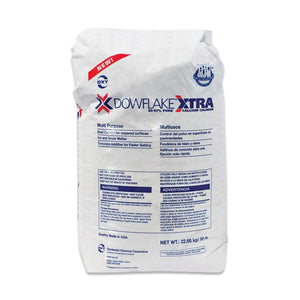 DOWFLAKE™ Xtra 83-87 percent calcium chloride flake goes the extra mile for better dust control. With approximately 10 percent more calcium chloride than conventional 77 percent calcium chloride flake products, DOWFLAKE™ Xtra gives you greater pound-for-pound dust control than competing calcium chloride formulations and other materials.

DOWFLAKE XTRA is hygroscopic, drawing moisture from the air, which may eliminate the need to mix it with water depending on conditions.

DOWFLAKE™ Xtra Ice Melt Volume (at 20 degrees F), within the first 20 minutes:
• 33% more than NaCl
• 27% more than MgCl2 flake
• 2X more than Urea
• 5X more than KCl
• 9X more than CMA
• Conventional 77-80 percent flake melts 7.7 pounds of ice per pound used. DOWFLAKE™ Xtra 83-87 melts 8.5 pounds of ice per pound used.

For bulk orders, call (312) 637-1923 or email info@chicagofabrications.com
Pallet Price: $19.00/bag
Truckload Price: $14.00/bag

*Shipping fee applies
*55 bags per pallet