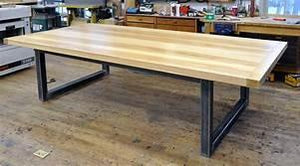 Oak wood table is an exceedingly strong and durable hardwood with a prominent grain. Every table is unique, with varying grain pattern and natural color shifts that are part of the charm of wood.
The solid wood table top has a full plank design that gives it an authentic plank expression with a genuine wood feeling. The plank expression is enhanced by the design on the edges.
The 2" steel tube for the base material is a very strong support of this table. This 8 ft long table is very useful for your office, industry or home. This wood and steel base table's header and footer design made a unique look of this product. The handicraft item is always makes any decoration awesome.
• 8 ft long table. the base is 6 ft ling. 12" overhang on header and footer.
• 2" steel tube for the base material.
• 30" tall.
• Made from Maple
Materials: steel, wood, oak, maple.