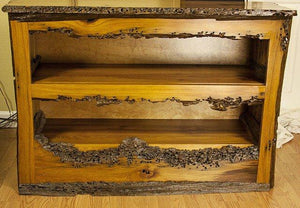 Absolutely Stunning Store Back bar Shelve Made from sinker cypress. This piece has amazing grain and color. This modern shelve has the original latch hardware and original maker's plate. This piece belongs in a special setting. This brown shelve could be used for displaying any type of collection. This is incredibly solid and heavy. It deserves a special home or bar where the size of the shelves is 36" long x 14" deep x 30" high. It commands a room. Each shelve is made to order with great attention to detail. We take pride in every piece in our shop and we build them as if we were building it for ourselves. We set very high standards before our product is shipped. We want to make sure you are completely satisfied with your selections and we want our products to remain in your family or business for years to come.
• Sinker Cypress shelving unit
• 36" long x 14" deep x 30" high
Materials: wood, live edge, sinker, water proof.