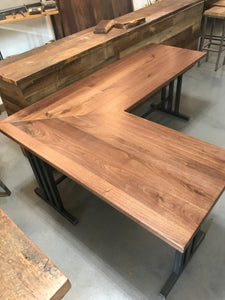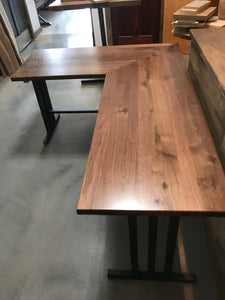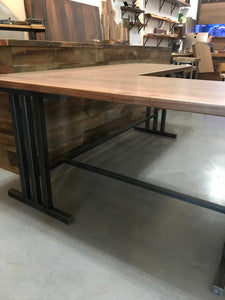 This modern l shaped desk is made up of a main desk measuring 72" long x24" deep x 1.5" thick and short side is 54". The return is reversible to fit your needs as l shaped home office desk. It is constructed with a laminate top that resists scratches and stains.
It features a weathered and aged finish. The frame is made of solid wood with walnut steel and features a metal mesh modesty panel on both the main desk and return. The solid wood frame has a rustic, textured finish and construction for stability and longer use. So this is definitely a best l shaped desk of modern age. You can work freely and comfortably with a broad surface that can easily fit all your belongings. Conveniently fit the desk in a corner and organize your messy wires behind the angled edge for a tidy and distraction-free work environment. When you need space to create and focus on writing,
drawing, or studying, this wooden home office desk will be there for you.
We hand select rugged pieces of old growth reclaimed lumber, and fabricate bases with steel tubing to create unique, one of a kind, quality pieces of furniture to last through generations. Give any office or home space that industrial look you've been wanting!
Measuring 72" long x24" deep x 1.5"