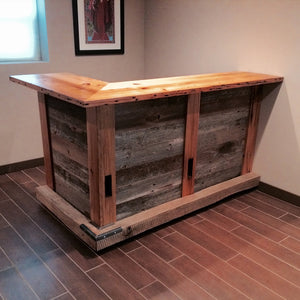 This mobile bar is equipped with castor wheels, enabling you to easily move it around your home. Modifications can be added but with an additional fee. These mobile bars are great for events small and large. 

Dimensions:
Front - 5' wide
Right turn - 30"
Top counter - height: 42", depth: 12" with overhang
Lower counter - height: 36", depth: 18"

*Additional fee: shelves, drawers, cabinets, modifying measurements and design