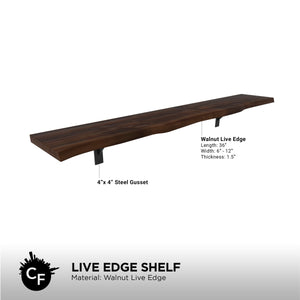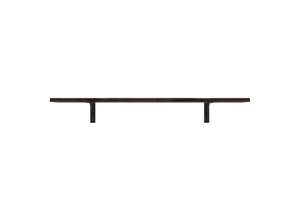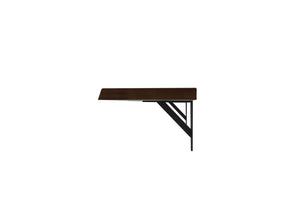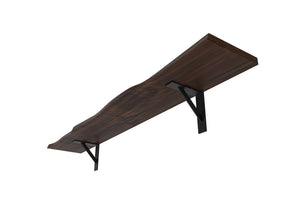 As beautiful and unique as the trees they came from, live edge wood refers to the natural edge of the wood under the bark after it is cut. Live edge wood keeps the original lines of the trunk along its edges, portraying the wood in its very naturalistic and raw state.
Showcase a live edge walnut shelf anywhere you are looking to capitalize on the natural beauty of wood.
• Finished With: 1 coat of clear lacquer finish on the bottom and 2 coats of clear lacquer finish that's smooth and pleasing to the touch on top. Washable with mild soap and water.
• The Bracket: A corner bracket with a welded piece of steel for support. Pre-drilled countersunk holes on top and bottom for securing to the wall. Two small screws attach the shelf to the wood bracket.
Walnut is strong, hard, and durable without being excessively heavy. It has excellent woodworking qualities, and takes finishes well. The wood is light to dark chocolate brown in color with a straight grain in the trunk and wavy grain present toward the roots.
What comes in the box when I order a live edge shelf?
• A walnut live edge 36"L x 6" -12"W shelf with 2, 4" x 4" gussets attached for hanging.
• Measures: 1 1/2" Thick x 6" -12" Wide x 36" Length
Materials: walnut live edge, wood.