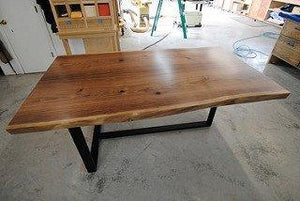 Live edge or natural edge is a style of furniture where the furniture designer or craftsperson incorporates the natural edge of the wood into the design of the piece. Our skilled designers and carpenters incorporate the natural edge of the wood into the design of the piece, whether a table, desk, bar, bench, coffee table or another custom item. When we create a Live Edge table we select the best looking live edge in our wood selection and showcase this as the edge of the table. Our Live edge walnut table exudes rich natural colors, textures, and beautiful craftsmanship. Design your dining room table with us. Our custom made walnut table dimensions are 72" long, 40" wide, and 30" tall for better look. We offer tri base designs live edge walnut table. We select only the finest live edge slabs that are premium in quality.
Our table is solid, durable and beautiful. Every piece of this furniture is unique, and slightly different from the next. This long wood table is fully handmade. Our solid reclaimed redwood long table has a strong retro style. It will make a distinctive addition to your drawing room, kitchen or office too! Every step of the process is carried out with the greatest care.
• 72" long x 40" wide x 30" tall
• Comes with tri base
• Satin finish
Materials: wood, live edge, steel, metal, iron, raw steel.