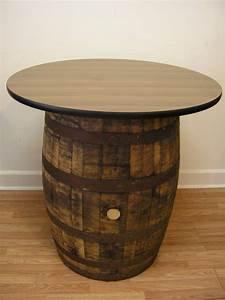 Need a place to set glasses and wine? Well, come on in and set them here! The artisans take great care to preserve and enhance the natural beauty of this solid wood wine barrel while crafting it into a table, featuring a solid round wood top. The piece is completed with best materials for a lifetime of use so that you will be very comfortable with this. Every barrel is different; the coloring on each piece will vary slightly from the one. It may have more or less of the natural wine stain specifically.
You will love our whisky barrel table. It adds fun to your basement decor, and you will love to use it for playing games or hanging out to chat. It's a conversation piece in itself! This table set is a fantastic addition to any tasting room, wine cellar, pub, or home bar.
• 40" high barrel table
• 36" diameter for the barrel top
Materials: barrel, wine, table top.